I am pleased to offer the following Mobile Services:

Wellness care
vaccinations, fecals, heartworms tests
flea and tick preventatives
nail trim
elective surgery
Sick pet care
blood and other lab work
examinations
injections and medications
Some illnesses require hospitalization for treatment. I can provide several options that will suite you and your pets needs.
Euthanasia (see separate tab)
Radiography
Surgery and Dentistry
Appointments
The best way to reach me is via phone. You may also request an appointment through the website link. However if you need an immediate appointment or to speak with someone it is best to call the office.
phone: 405-820-6647
fax: 405-606-2099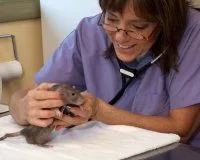 Types of Pets Seen
As a small animal veterinarian, I care for dogs & cats. Of course that means big dogs.

I also cater to 'pocket pets', such as rodents and rabbits.
Veterinary Home Healthcare accepts payment via: Cash, Check, MasterCard, Visa or Discover.
Discounts
Veterinary Home Healthcare offers discounted services to senior citizens and multipet households
. Pre-approval is required to qualify for the discounts, please call us for more information.
Gift Certificates

Looking for the puurfect gift?

Purchase a V.H.H.C. gift certificate today!!!